Royal Woods Resort Frequently Asked Questions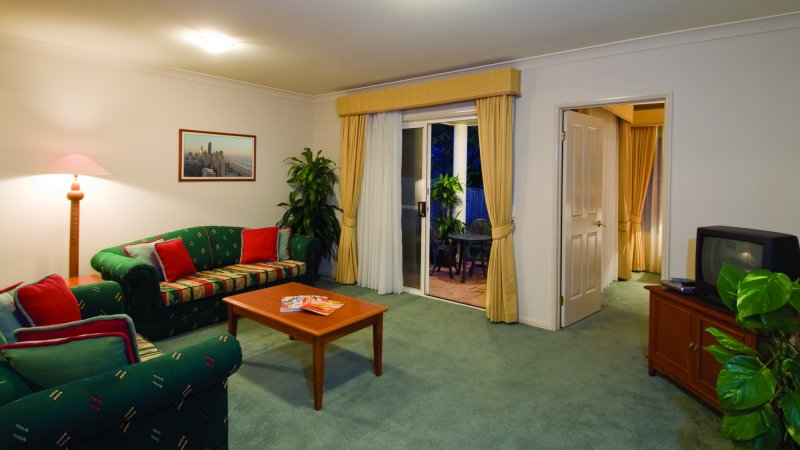 Browse the Royal Woods Resort frequently asked questions by selecting a category below. If you have a question that is not listed, please contact us.
Booking & Check-In
Information about bookings, payments and check-in.
Q: What time is check-in and check-out?
Check-in time is from 2PM, and check-out is 10AM.
Q: Do you require a security bond upon check-in?
Yes. There is a pre-authorisation done upon check-in of $100 for 1bedroom, $200 for a 2bedroom and $300 for a 3bedroom.
Q: Is after hours check-in available?
Yes. To check in outside of our normal business hours, which are 8AM to 7PM Monday to Saturday and 8AM to 6PM Sundays Public Holidays, please contact Security on 07 5665 7727, 45 minutes ahead of your arrival time
Q: Can I have a late check-out?
Late check-out is at 11 am, available through request one day prior and subject to availability
Q: When do I have to pay a deposit?
A deposit / full payment will be required upon confirmation of the booking. - depending on the package booked. Please refer to booking terms conditions under additional information.
Q: What are the reception hours?
8AM to 7PM Monday to Saturday 8AM to 6PM Sundays Public Holidays
Q: Can I book theme park tickets at reception?
Yes. Theme Parks, Attractions and Transfers can be booked through reception.
Services & Facilities FAQ's
General information about our accommodation services and on-site facilities.
Q: Is there Internet or WiFi access available?
Yes. There is paid WiFi service in the resort provided by a 3rd party
Q: What facilities do you have?
Indoor Heated Pool, Outdoor pool with waterfall , 2 spas one of which is heated, children's play room, vending machine, Fax/Photocopying, Laundry and Small Exercise Room.
Q: Is there car parking available?
Each villa provides a garage, there is also limited visitors parking spots available
Q: Is all linen provided?
Yes. Royal Woods provides all linen.
Q: How often are the rooms serviced?
The rooms are serviced every 3 days for stays over 7 nights.
Q: Is the pool heated?
Yes. Royal Woods has an indoor swimming pool which is heated.
Q: Why choose Royal Woods Resort?
Royal Woods is a different concept of accommodation that was designed to suit all guests from a single traveller through to large groups. Our unique luxury villa style accommodation, combined with world class recreational facilities, ensures a memorable holiday experience. Our location, just 10 mins from the city centre, and central to the Gold Coasts' main attractions, guarantees you will not miss anything the Gold Coast has to offer while still being able to relax in peace and quiet at the end of the day.
Q: How many villas does Royal Woods have?
Royal Woods has 45 villas, comprising of one, two and three bedroom accommodation so you can choose what suits you.
Q: Do the villas have cooking facilities?
Yes. Encouraging you to enjoy your holiday, your way, Royal Woods Resort provides full kitchen facilities in every two and three bedroom suite and villa and kitchenettes in the one bedroom accommodation. Included is a fridge, oven and hot plates, microwave, cooking dishes and utensils, cutlery, crockery and everything you need for your favourite recipes. We can also arrange continental breakfast hampers upon request for a minimal charge.
Q: Does Royal Woods have a restaurant?
As our villas contain a fully equipped kitchen, we do not have an onsite restaurant. However, Royal Woods Resort is within a short drive to local restaurants, and also offers a range of take-away menus which can be delivered to the Resort. Nearby take-away includes Chinese, Indian and pizza which is available for both lunch and dinner. If you wish to venture out a little further, Broadbeach and Main Beach offer popular restaurant strips for dining indoors or al fresco.
Q: Does Royal Woods have non-smoking rooms?
Yes. All of our suites and villas are non-smoking rooms. However, we have a few suites and villas where smoking is permitted in the outdoor areas. Please, advise your preferred option upon booking.
Q: Does Royal Woods have disabled-friendly villas and facilities?
We have many villas and suites that are on the ground floor, are very spacious, and do not have any stairs; however, we do not have disabled-specific facilities. Please, advise your needs upon booking.
Location FAQ's
General information about our location.
Q: How far is Royal Woods from the beach?
We are located about 10 minutes drive west from Surfers Paradise, the nearest beach location.
Q: Are there shops or restaurants nearby?
We are located about 2 minute drive to Benowa Garden shopping Centre where you can also find a variety of restaurants.
Q: Is there public transport nearby?
The nearest bus stop is 3min walk from the resort and buses run from and to surfers paradise every 16mins.
Q: What local attractions are in the area?
Royal Woods is only 10 minutes drive west from Surfers Paradise and about 15 minutes north-west from Pacific Fair and the Casino. We are about 20 minutes south-east from Movie World, Wet`n'Wild, Paradise Country and the popular Australian Outback Spectacular, and 25 minutes south-east from Dream World. We are also about 15 minutes south-east from Sea World and 30 minutes north from Currumbin Sanctuary. Note, however, that these times may vary depending on traffic conditions.
Q: Where can I buy groceries locally?
For your convenience, we have a range of basic grocery items, including frozen dinners, available for purchase at reception. For a wider variety of groceries, there is a large supermarket in Benowa Gardens shopping centre, just 2 minutes drive from Royal Woods Resort. There, you will also find a butcher and fresh seafood store. While at Benowa Gardens, you can relax and enjoy a coffee or meal at the Cafe, one of the small eateries or several outstanding restaurants. For those who enjoy shopping, Benowa Gardens features a variety of retail stores ranging from fashion to giftware. Ashmore Plaza shopping centre, is also only 2 minutes drive from Royal Woods Resort. With Woolworths' Supermarket, dozens of food and specialty shops and a great variety professional services, it caters for most needs.
Q: How far is Royal Woods from the Gold Coast?
Royal Woods is ON the Gold Coast. Surfers Paradise, which is the busy city centre of Gold Coast, is just 4 km from the resort.
Q: Are there any golf courses near Royal Woods?
Yes, Royal Pines is a 36 hole championship course and is located under 2 minutes drive from here. You will find more than 20 other courses to suit a variety of levels and budgets, all within a 45 minute drive from the resort.